Despite retailers being forced to temporarily shut their doors, behind the scenes Santa's little helpers are busy fitting out Christmas windows ready for the great
festive reveal! Creating a captivating window — a world that customers can step into has never been more important! Amid this uncertain period a beautifully dressed
window can help seal that all important purchase.
So if you're looking for a story to carry out in your window, or simply need a few final touches to complete your display, wrapped up in this post are some festive ideas that will help you master visual storytelling.
A frosty City
Metal risers are the perfect tool for encapsulating a narrative and creating showstoppers! We've used them to create a series of Christmas concepts, with each one tapping into a different theme! This first showcase tells the tale of a city on a frosty winters night. We created a laser cut silhouette of a city skyline and paired it with frosted ring towers to reflect snow-covered buildings.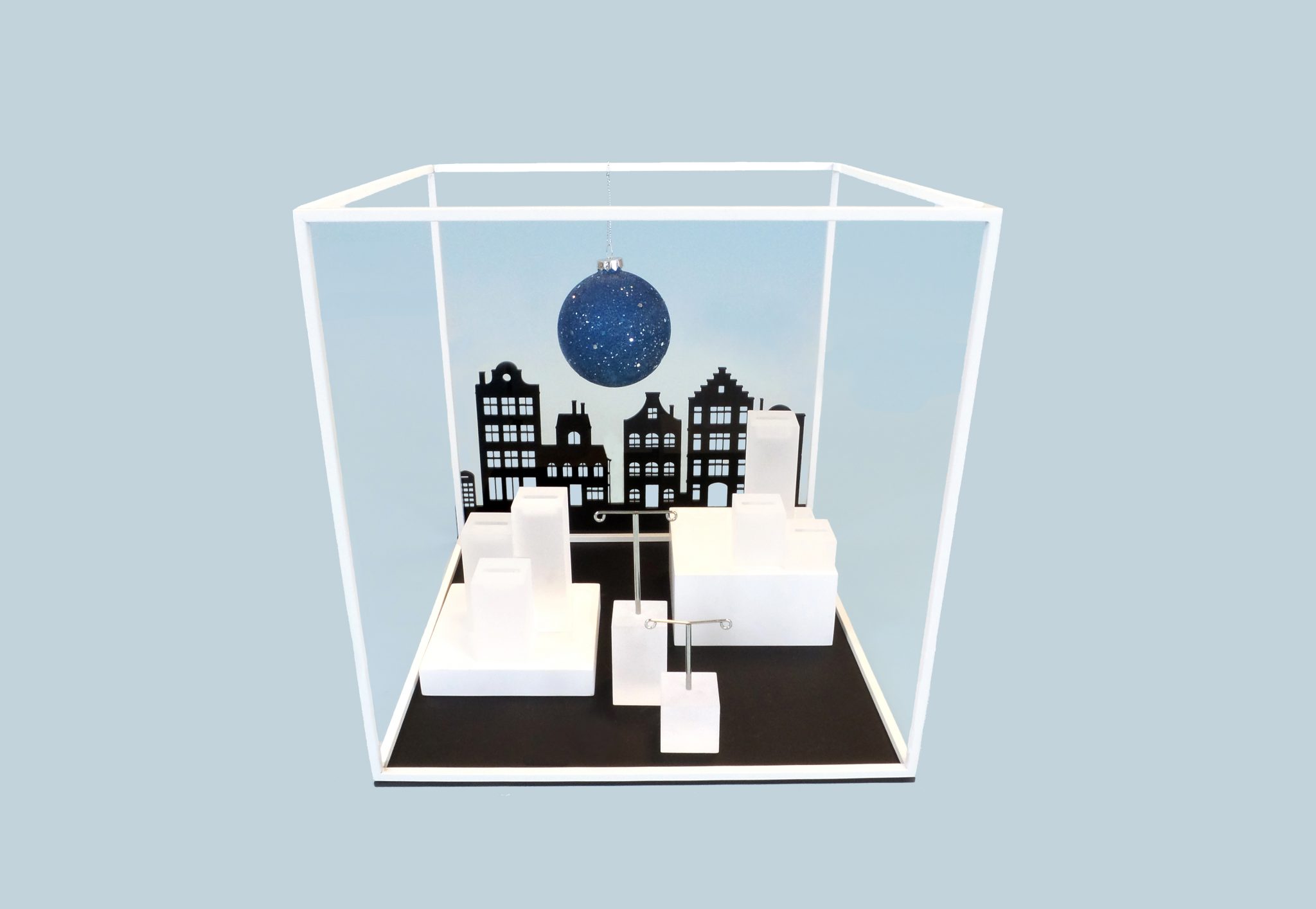 A Christmas tree, reimagined
A Christmas stack doesn't have to be unimaginative. This display staggers chrome and brushed gold cubes to form the shape of a Christmas tree. We've decorated our tree with racing green and burgundy suede, topped off with a golden acrylic star. Our creative team can cut any mirror shape to help bring your theme to life.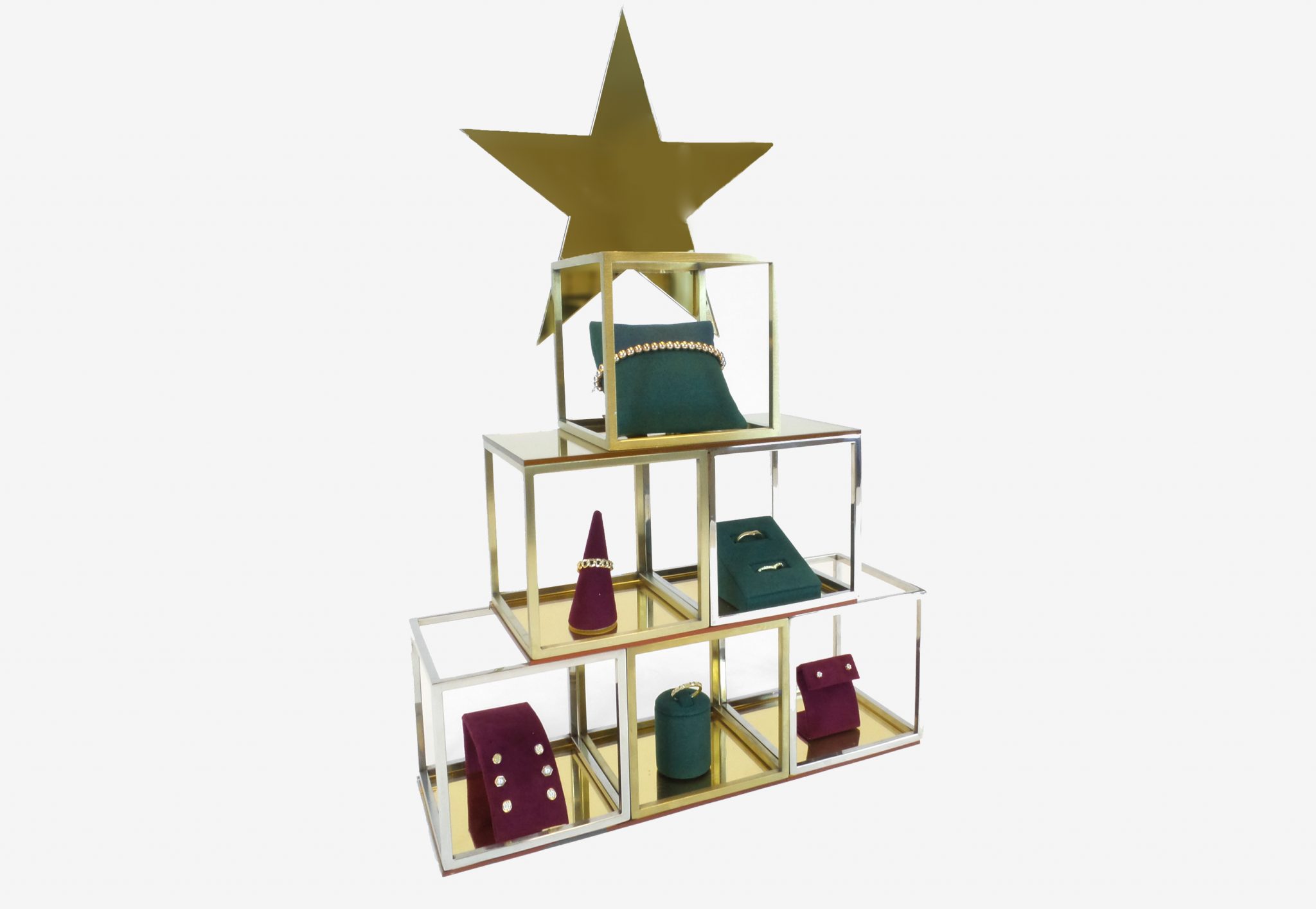 Rustic elegance
Green and gold says Christmas like no other. The heritage feel of racing green is the perfect accent against gold and shimmery tones. For an extra rustic touch we've adorned the brushed gold riser with beautiful festive foliage.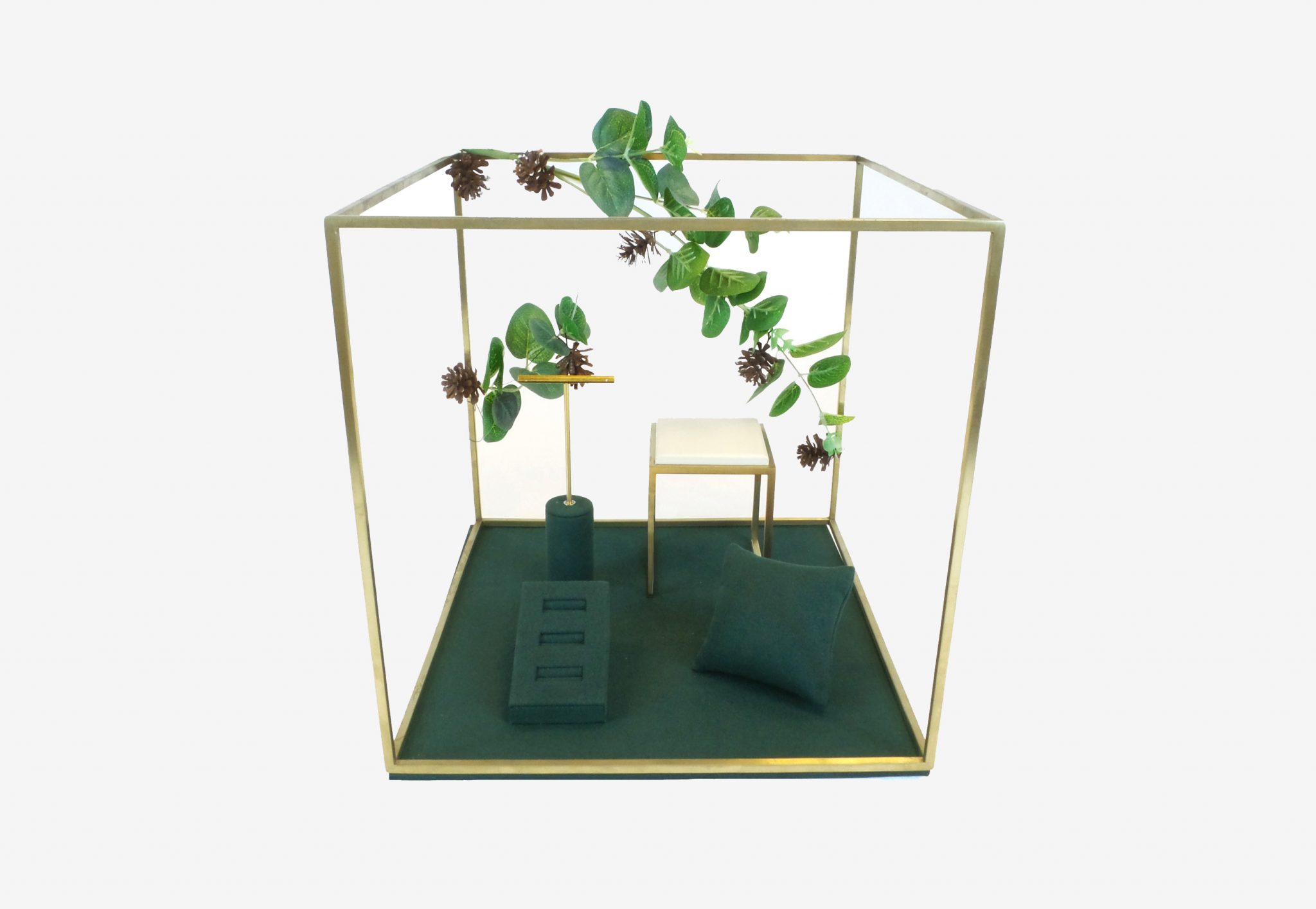 A noir Christmas
The most classic Christmas colours are obviously green and red, but that doesn't mean you can't stray from the ordinary to create an extraordinary festive look. This black and silver display combined with the right product simply screams Christmas party, and is sure to highlight your product.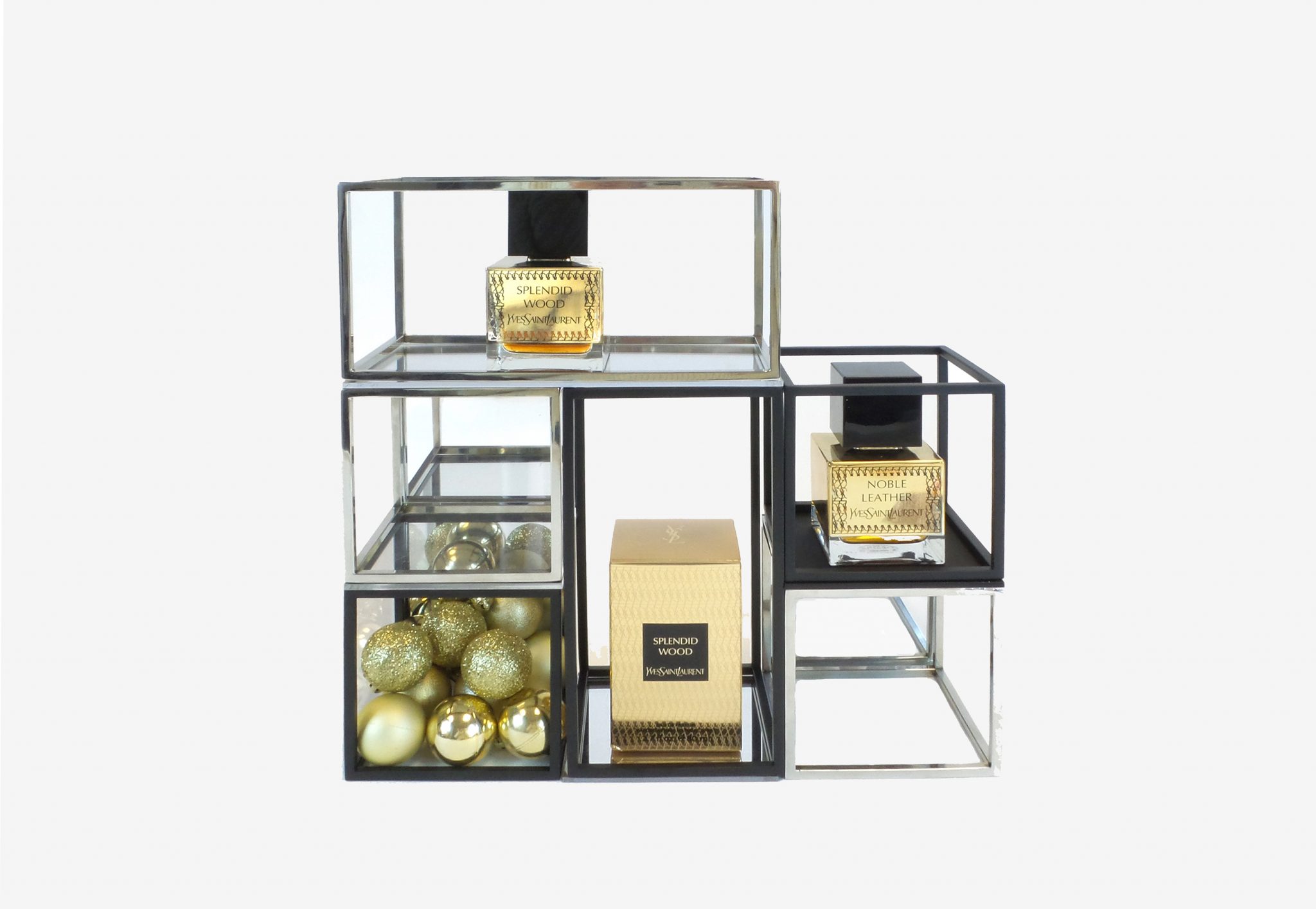 Bauhaus meets nordic
Many of us won't be jetting off on a Christmas retreat this year, but you can certainly recreate a holiday wonderland in your window. Entrance customers with a snowy Scandi landscape using mini wooden cabins and light grey concrete to give the illusion of mountain hill tops.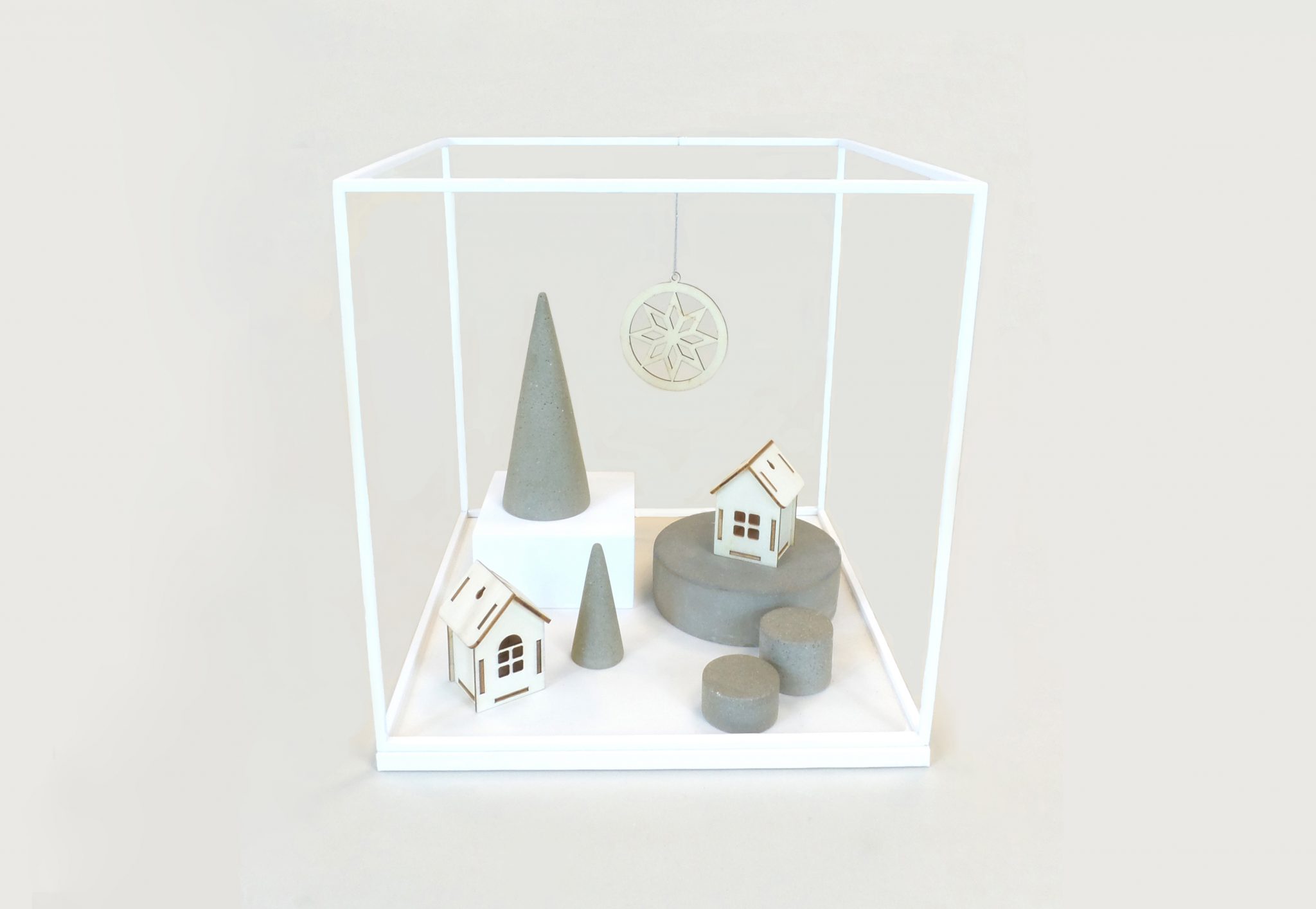 Winter wishes
Chrome metal cubes are stacked together to create this Christmas-worthy composition. Mirrored acrylic and baubles dipped in glitter reflect the light to create a seasonal sparkly sheen. Fill the blocks with your hero products to create the perfect visual setting.
Now it's your turn! Browse our full stock range to start curating your story!
For an extra dose of festive inspiration read our Christmas Selection post or head over to our Pinterest